Coughs, Colds and Flu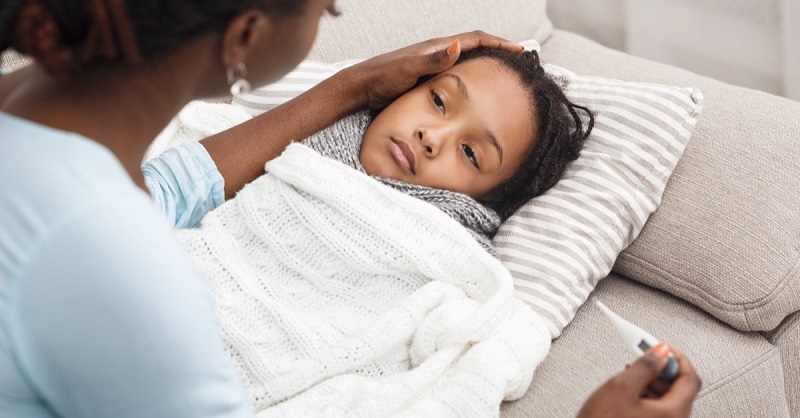 Brought to you by

A cold or the flu is caused by a virus
You can spread the virus by coughing and sneezing
As another person can breathe in the virus from drops or even from touching things
The viruses that cause a cold or the flu are not the same viruses
Your symptoms will be different
You will feel sicker with the flu than a cold, with a fever 2,11
When you have a cold or the flu, you will feel some or all of these symptoms.2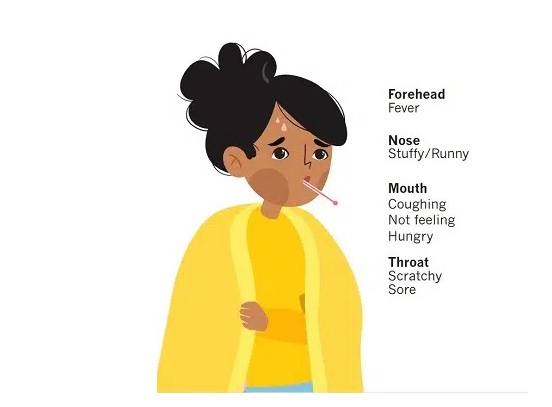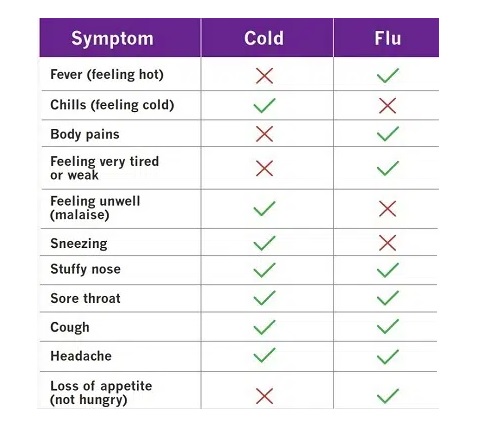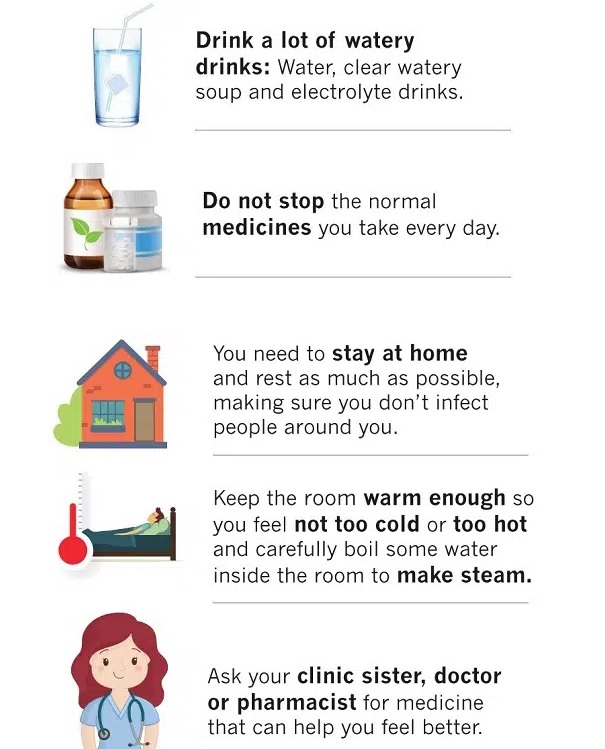 he medicine that you will get from the clinic sister, doctor or pharmacist will help you feel better. This medicine can also be bought directly from a pharmacy.
There are different medicines that can help to:
Take away the pain and fever.
There are syrups for children or old people that may struggle to swallow tablets as well as tablets for adults.
Open your blocked nose or help to make it stop running so you can breathe better.
Some of these medicines are tablets that you can drink with water, and some are sprays that you spray into your nose. There are also syrups for children.
Important: Antibiotics will not help to cure a viral infection like a cold or the flu.
When you are healthy, you cough sometimes as this keeps your throat and lungs clean. 3
When you are sick, you cough a lot more, because there is a lot of mucus in your throat, and your body is trying to make you better.15
Besides a virus causing mucus dripping down the back of your throat, you can also cough when:
You inhale things from the air like smoke or cold air
You are allergic to something
You have asthma
You experience acid from your stomach pushing into your throat
Some medicines you take regularly can cause a cough
There are different types of coughs that need different medicines. Therefore you will need to explain what you are experiencing.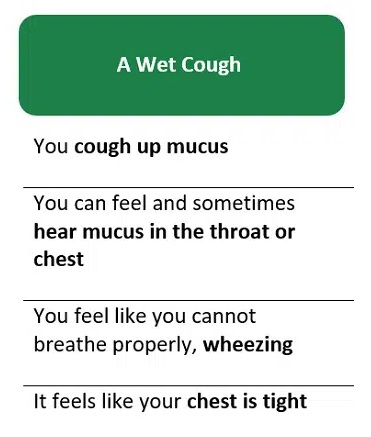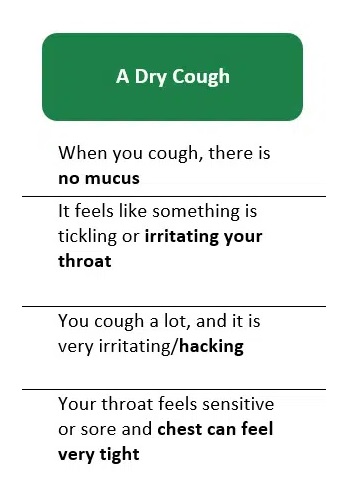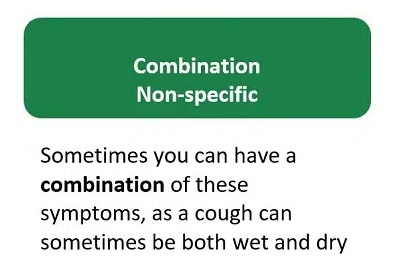 You can't really stop yourself from coughing. You can avoid some of the things that make you cough, or you can cough less by: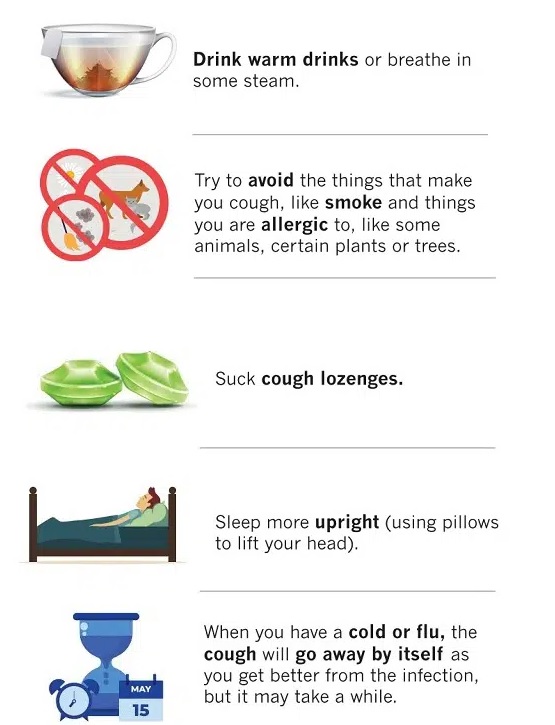 You don't always need to go to your doctor or clinic for the medicines that you need to use when you have a cough.
Most cough medicines you can buy from the pharmacy.16,18
Wet cough:
There are cough syrups that loosen the mucus or phlegm that is irritating your throat or dripping down your throat.
Dry cough:
When you have an irritating cough and cannot sleep at night, you can take a cough syrup or lozenge to stop the cough.
Combination:
When you have phlegm and cough a lot, you can get cough syrup or suck on a lozenge to loosen the phlegm and reduce the coughing at the same time.
Back to top
TREATMENT OF COUGH AS SYMPTOM OF COLD AND FLU
Don't let a cough get in the way, start to treat your cough from day 1.
Benefits of a Benylin Wet Cough range:
Benylin Wet Cough Mucus Relief thins and loosens mucus making it easier for you to get rid of thick stubborn phlegm.
Benylin Wet Cough starts to work Quickly to Combat your Cough
Benylin Wet Cough range is available in Adult, Adult Menthol and Children's variants
Alongside our cough products for both adults and children, we've also developed an effective range of products to help relieve the symptoms of colds and flu. Ask your pharmacists for the Benylin®Solution best suitable for you and your family.
DOKTOR MOM®Herbal Cough Lozenges work to relieve your cough and soothe your throat when you are on the go. Alcohol free and Tartrazine free. Can be taken day and night.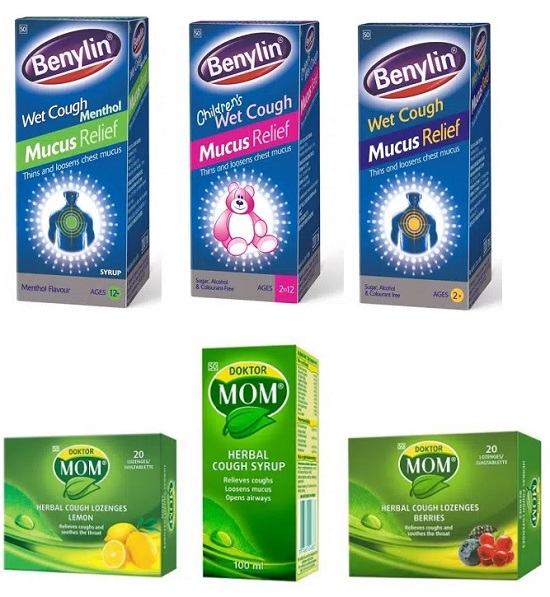 For full prescribing information, please refer to the Professional Information approved by the medicines regulatory authority.

Medical References
1. Sinusitis. The Merck Manual Home Health Handbook Consumer. Accessed on 11 November 2019. Available at www.merckmanuals.com/home/ear-nose-and-throat-disorders/nose-and-sinus disorders/sinusitis.
2. Eccles R. Mechanisms of symptoms of common cold and flu. Birkhäuser Advances in Infectious Diseases. 2009 Birkhäuser. Verlag Basel/Switzerland.
3. Polverino M, et al. Anatomy and neuro-pathophysiology of the cough reflex arc. Multidisciplinary Respiratory Medicine 2012;7:5.
4. MedicineNet. Dehydration. Available at www.medicinenet.com/dehydration/article.htm Accessed on 23 March 201811 April 2020.
5. Woods TA. Diarrhea. In: Walker HK, Hall WD, Hurst JW, editors. Clinical Methods: The History, Physical, and Laboratory Examinations. 3rd edition. Boston: Butterworths; 1990. Chapter 88.
6. Nathan A. Treating acute diarrhoea in adults. The Pharmaceutical Journal, 2008;281:217.
7. Sibanda M, et al. Chronic constipation in adults. S Afr Pharm J 2018;85(1):34-42.
8. Johnson J. Intestinal worms in humans and their symptoms. Medical News Today. Accessed 2020/04/20. Available at https://www.medicalnewstoday.com/articles/324042#takeaway.
9. Soil-transmitted helminth infections. World Health Organisation. 14 March 2019 [online] Accessed 2019/07/25. Available from https://www.who.int/news-room/fact-sheets/detail/soil-transmitted-helminth-infections
10. Conducting Zone. LumenCandela Online learning material. Accessed on 11 November 2019. Available at https://courses.lumenlearning.com/boundless-ap/chapter/conducting-zone/.
11. Centres for Disease Control and Prevention. Cold vs Flu. Accessed on 16 November 2019. Available from https://www.cdc.gov/flu/symptoms/coldflu.htm.
12. The National Institute for Communicable Diseases (NICD) in collaboration with The South African National Department of Health and World Health Organization (WHO). Healthcare Workers Handbook On Influenza (last updated:
May 2014). Accessed on 16 November 2019. Available at www.nicd.ac.za/assets/files/Healthcare%20Workers%20Handbook%20on%20Influenza%20in%20SA%20_12%20May%202014(1).pdf.
13. Buensalido JAL. Rhinovirus (RV) Infection (Common Cold). Accessed 16 November 2019. Available at https://emedicine.medscape.com/article/227820-print.
14. Common Cold. The Merck Manual of Diagnosis and Therapy Professional. Accessed on 16 November 2019. Available at www.merckmanuals.com/professional/infectious-diseases/respiratory-viruses/common-cold.
15. Albrecht HH, Dicpinigaitis PV, Guenin EP. Role of guaifenesin in the management of chronic bronchitis and upper respiratory tract infections. Multidiscip Respir Med 2017;12:31. doi: 10.1186/s40248-017-0113-4.
16. WebMD. Why you cough. Accessed on 2019/11/09. Available at https://www.webmd.com/cold-and-flu/overview?print=true.
17. Cracking the cough code. Harvard Health Publishing. September 2018. Accessed 2019/11/09. Available at https://www.health.harvard.edu/diseases-and-conditions/cracking-the-cough-code.
18. Truter I. Cough. SAPJ 2007;74(4):20-27.
19. Rehydration therapy. Centre for Disease Control (CDC). Accessed 2020/04/13. Available at https://www.cdc.gov/cholera/treatment/rehydration-therapy.html.
20. The treatment of Diarrhoea – A manual for physicians and other senior health workers. World Health Organisation. Available at https://apps.who.int/iris/bitstream/handle/10665/43209/9241593180.pdf;sequence=1.
Accessed 11 April 2020.
21. GBD 2016 Diarrhoeal Disease Collaborators. Estimates of the global, regional, and national morbidity, mortality, and aetiologies of diarrhoea in 195 countries: a systematic analysis for the Global Burden of Disease Study
2016. Lancet Infect Dis 2018; 18: 1211–28.
22. Hill DR, Ryan ET. Management of travellers' diarrhoea. BMJ 2008;337:a1746.
23. Guidelines for the Management of Acute Diarrhea After a Disaster. Centers for Disease Control (CDC). Accessed 2020/04/14. Available at https://www.cdc.gov/disasters/disease/diarrheaguidelines.html.
24. Allen S. How to deal with constipation. SAPJ 2008;75(7):23-26.
25. Constipation. South African Gastroenterology Society (SAGES). [Internet] 2020. Accessed 2020/02/18. Available from https://www.sages.co.za/Patients/Constipation.
26. Farrer F. Helminth infections – a review. Prof Nurs Today 2016;20(4):3-7
27. Adams VJ. et al. Paradoxical helminthiasis and giardiasis in Cape Town, South Africa: epidemiology and control. African Health Sciences 2 June 2005;(5)2:131-136
28. Kwitshana ZL, Tsoka JM, Mabaso MLH. Intestinal parasitic infections in adult patients in KwaZulu-Natal. SAMJ Sept 2008(98)9:709-711
29. Vermox HCP Claims Study. Study completed for Johnson & Johnson (PTY) LTD. Prepared by Kantar South Africa (PTY) LTD. Accessed May 2017.Global Strategic Insights & Analytics, December 2019.
ZA-BE-2000007